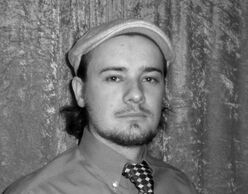 Peter Dmitriyev is a self-taught composer and pianist. Working from his home in NJ, he is able to generate a vast variety of visceral music to fit any mood or scene. Years of serious study of the classical masters of bygone eras has enabled Peter to imbue his emotional approach to music with a classically learned and contrapuntal foundation, resulting in music with both structural integrity and fiery passion that can stand up to the increased demands and rigorous standards of today's modern game designers and filmmakers. This coupled with his artistic and writing background allows him to understand the particular nuances of a director's vision for each project, enabling him to consistently impress his clients.
Ad blocker interference detected!
Wikia is a free-to-use site that makes money from advertising. We have a modified experience for viewers using ad blockers

Wikia is not accessible if you've made further modifications. Remove the custom ad blocker rule(s) and the page will load as expected.